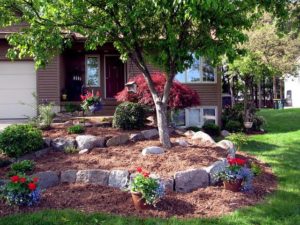 Using Mulch & Stone to help Drainage and Irrigation
Throughout the greater Milwaukee area, precipitation varies in any given month. Sometimes, southeast Wisconsin homeowners have too much water, and have to contend with a variety of drainage issues on their properties. Fortunately, proper grading and the right Milwaukee landscape mulch can help property owners to intelligently manage groundwater problems. Other times, gardens and yards could use a little more water. Here are a few tips for fine-tuning drainage and irrigation using wood and stone mulch.
Dry Deep Soil With French Drains
Anyone with a basement knows how dangerous water-logged soil can be to foundations. French drains located close to a home's footprint relieve sub-surface hydrostatic pressure and channel water away from buildings. You can build French drains by digging trenches, installing perforated PVC pipes and covering them with stone.
Build Swales to Manage Runoff
Simply put, a swale is a low-lying portion of land that's often wet and allows for measured drainage over time. Unlike ditches, swales tend to be shallow and sited along sharp breaks in the topography. Homeowners can line swale margins with rock mulch and stones to improve drainage performance.
Divert Surface Water With Pebble Drains
Also referred to as rock rivers, pebble drains are a great way to siphon off surface water as it accumulates on flat terrain. To install a pebble train, you'll dig a trench a few inches deep and line it with Milwaukee landscape rock mulch of some kind.
Trap Excessive Runoff in Rain Gardens
A rain garden is essentially a depression in a lawn that collects water and nourishes plant life. Homeowners can easily create a rain garden by edging a soggy patch of lawn with field stone or granite. Wetland plants like ferns and sedges will thrive in this moist environment.
Use Bark Chips to Hydrate Evergreens
When managed carefully, evergreen trees like pines and firs make maintaining the appropriate level of soil moisture a snap. Protecting those trees with a layer of mulch will help them do their job better. A bark mulch will last a long time and will prevent moisture loss during hot summer months.
Make the Garden Bloom With Wood Mulch
Aside from providing homeowners with produce and flowers, gardens can be a key part of a comprehensive landscaping drainage strategy. Using wood mulch to protect garden plants has the added benefit of encouraging earthworm activity. Earthworms aerate the soil and allow for better drainage during rainy periods.
Dress Walkway Shrubs With Red Cedar
Besides looking amazing, hardy shrubs planted along the perimeter of a home can actually improve drainage. A layer of red cedar mulch applied to shrubs will retain moisture and gradually release it to nearby French and pebble drains. Mulch-covered shrubs thereby prevent drainage infrastructure from overflowing during storms.
The Key to Successful Drainage and Irrigation
If you want to fix your water problems, using the right materials for the job is crucial. Melvin Mulch Company can provide the perfect mulch and stone for your landscaping needs anywhere in the Milwaukee area. When only the best will do, we're the Milwaukee landscape mulch outfit to contact. Call (414) 856-9077 today.
Photo by Rachel Kramer from Flickr using Creative Commons license.